THE BASICS OF POLARIZED LENSES
POLARIZED LENSES HELP ELIMINATE GLARE FOR CLEAR AND FOCUSED VISION
LIGHT TRAVELS IN ALL DIRECTIONS AND POLARIZED LENSES REDIRECT INCOMING LIGHT TO PROVIDE CLEAR, FOCUSED VISION.
HOW POLARIZED LENSES ARE MADE
PVA ACETATE IS STRETCHED AND DIPPED INTO AN IODINE SOLUTION. THE IODINE CRYSTALIZES IN HORIZONTAL ROWS ALONG THE PVA. THE PVA IS THEN PLACED ON THE LENS.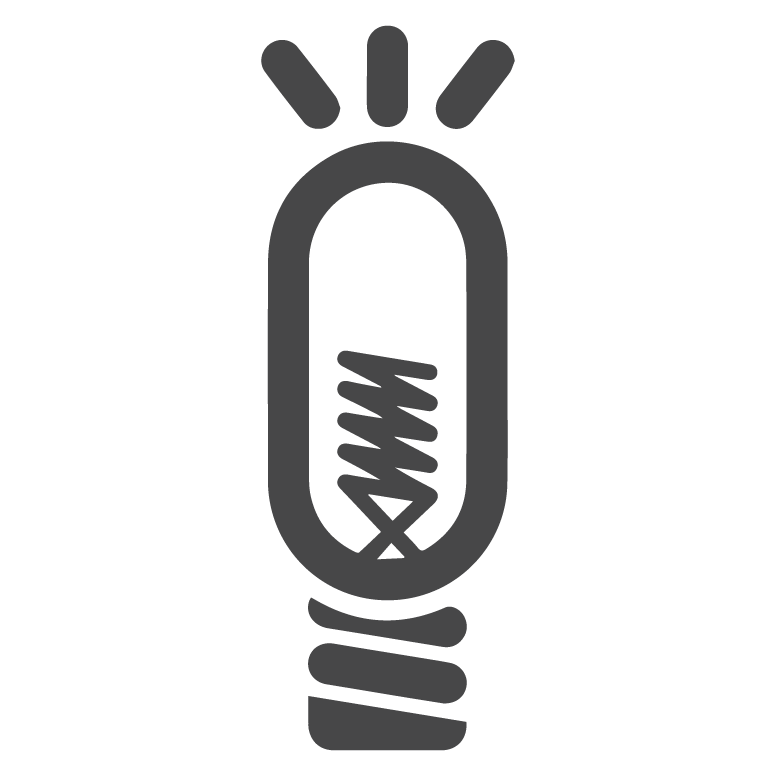 THE SCIENCE BEHIND POLARIZED LENSES
THE LIGHT WE SEE IS MADE OF WAVES FROM THE ELECTROMAGNETIC SPECTRUM.
(THE ELECTROMAGNETIC SPECTRUM ALSO CONTAINS GAMMA RAYS AND RADIO WAVES, TO NAME A FEW)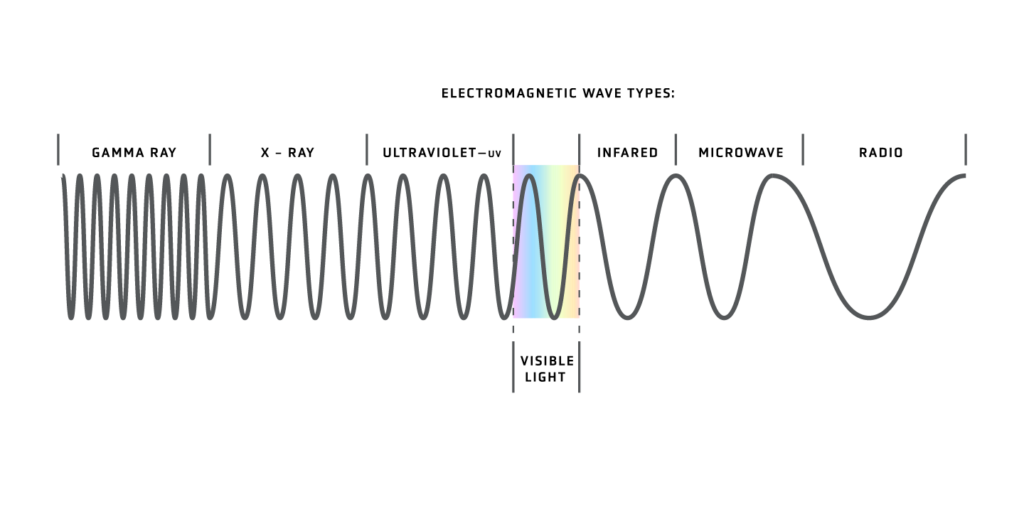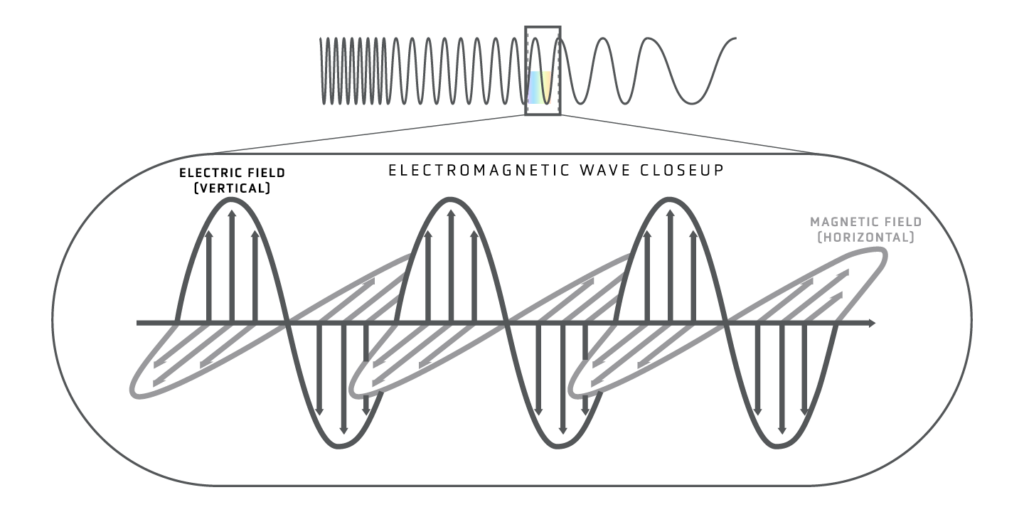 ELECTROMAGNETIC WAVES HAVE ELECTRIC AND MAGNETIC FIELDS
*THE ELECTRIC FIELD PLAYS AN IMPORTANT ROLE IN POLARIZATION | REMEMBER FOR LATER!
ELECTRIC FIELDS CAN RESPOND TO THE CHARGE OF ATOMS
(THIS MEANS ATOMS RESPOND TO LIGHT)
WHEN LIGHT HITS AN ATOM, THE ATOM'S ELECTRON CLOUD VIBRATES IN THE DIRECTION OF THE INCOMING LIGHT. THE LIGHT WAVE TRAVELS THROUGH THE ELECTRON CLOUD AND EXITS THE OPPOSITE END OF THE ATOM POLARIZED.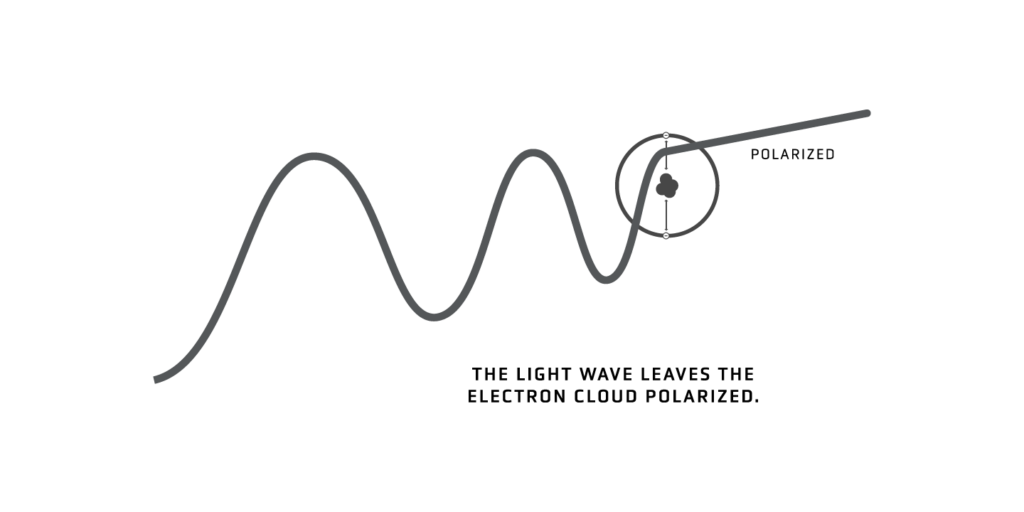 HOW IODINE REDIRECTS & POLARIZES LIGHT
IODINE CRYSTALIZES IN HORIZONTAL ROWS ALONG THE LENS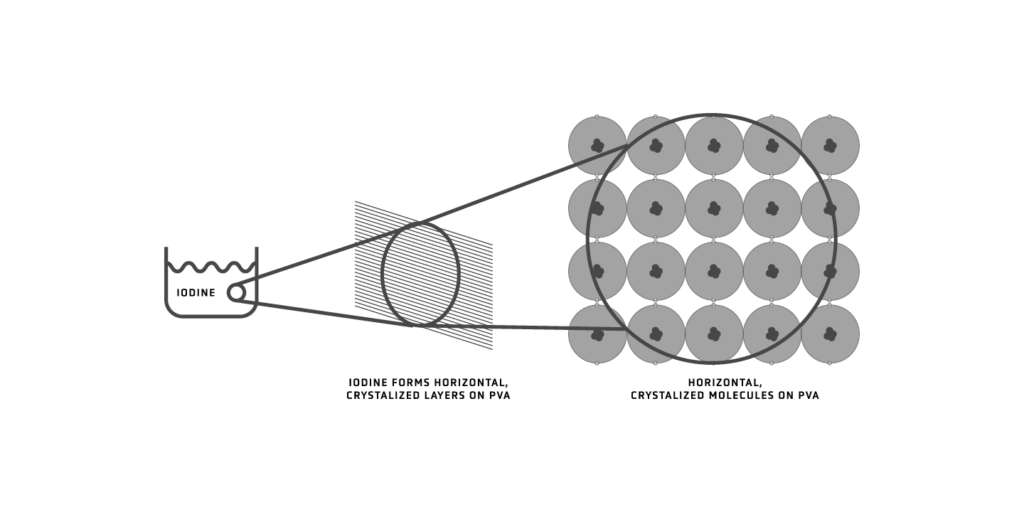 THE HORIZONTAL ALIGNMENT FORCES THE ATOM'S ELECTRON CLOUDS TO MOVE PERPENDICULARLY IN A VERTICAL AXIS
THE LIGHT TRAVELS THROUGH THE VERTICAL ELECTRON CLOUDS, LEAVING POLARIZED ON THE OTHER END
(THE HORIZONTAL WAVES ARE ABSORBED)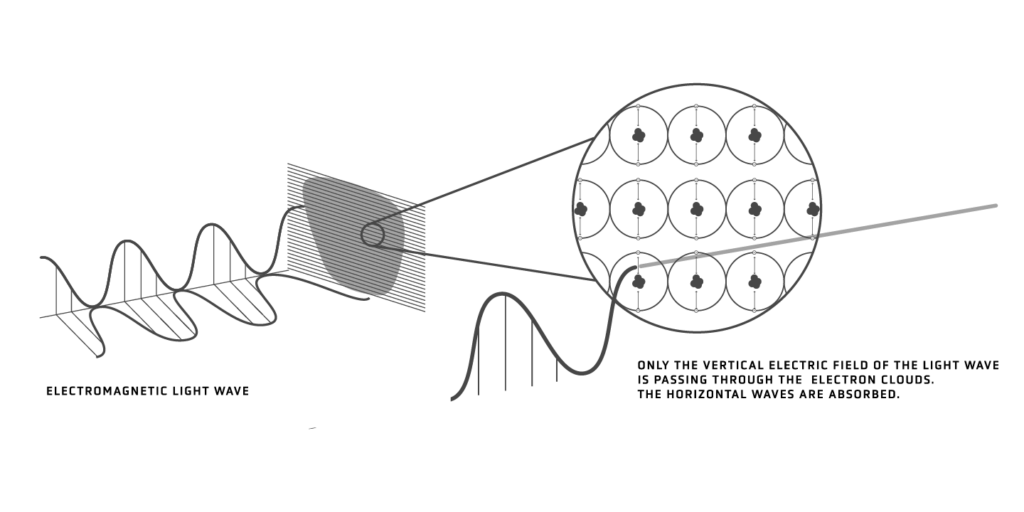 POLARIZED LENSES HELP ELIMINATE GLARE FOR CLEAR AND FOCUSED VISION